Back to Licensing Page
Attention libraries from Australia... If your library has been selected to participate in Curtin University's study for Geri-Fit, please fill out this form.
What is a Public Performance License and how does it work? A Public Performance License (PPL) is a license that permits a facility (library, senior center, senior housing or retirement community) to play a Geri-Fit exercise DVD and be copyright / trademark compliant. It is different than a movie license which doesn't cover an individual company's copyright, trademark or other intellectual property (IP). Once a facility purchases a Geri-Fit public performance license, they are added to an approved list of licensed sites that are legally permitted to display the Geri-Fit DVD products in a public area.
How it works: The Public Performance License is a one-time fee of $150 and then you can purchase whichever DVD titles you want at their retail price (see available titles and prices below). The license is for one facility only and the DVD cannot be copied, shared, reused or taken elsewhere. If you have multiple facilities, each facility must purchase its own PPL. There is no annual renewal fee or other costs. This is a very cost-effective way for you to offer a research-proven senior fitness class to your patrons, residents, members or community and is especially suitable for rural areas.
We also offer a
Starter Package
for $269 which includes the Public Performance License along with
three
of our top-selling DVDs!
This
Geri-Fit at the Library
business model will show you how easily it can be done. And, here are some
statistics
and comments from libraries and senior centers that have offered Geri-Fit through a public performance license. Here's a
short video
on the 2019 study that involved over 500 older adults exercising to Geri-Fit DVDs nationwide during a 12 week period.
This is what your group will look like when they exercise to a Geri-Fit DVD.
Although not required, it is suggested that you have a staff member or volunteer be present at the time the video is played so that they can monitor the group and occasionally provide recommendations for improvement or exercise correction when needed.
We offer an optional Coach Trainer online training program that will teach your volunteer or staff member the proper coaching and spotting techniques that are needed to safely supervise your group of participants. This training does not permit the coach to teach a live class. However, it will provide them with the basic knowledge and guidance on what to spot and how to correct form while your group exercises to the DVD. This two hour online course is only available to sites that have purchased a PPL and is priced at $50 per trainer (limit 2 Coach Trainers per facility). Here are some statistics about the Coach Trainer training.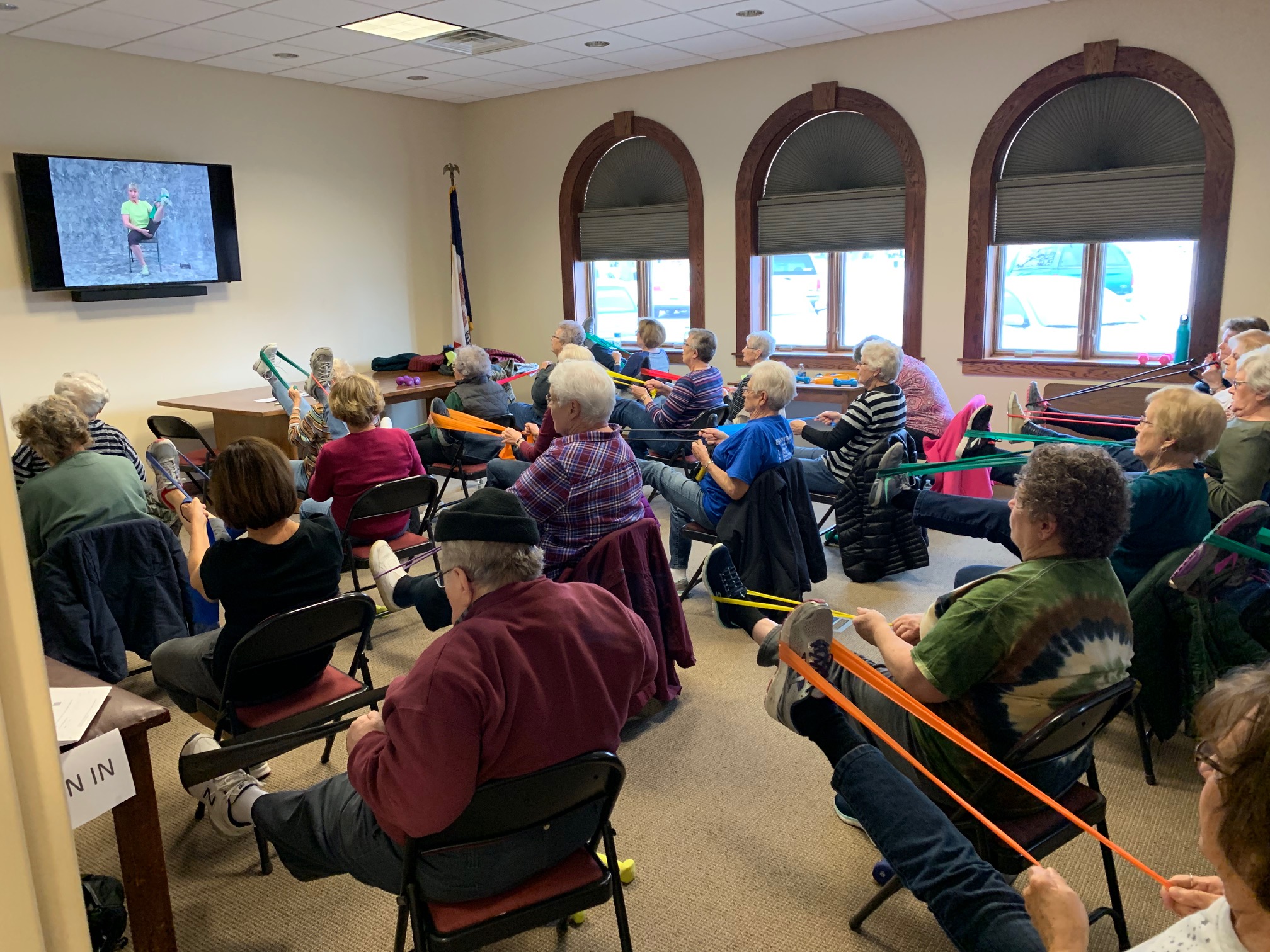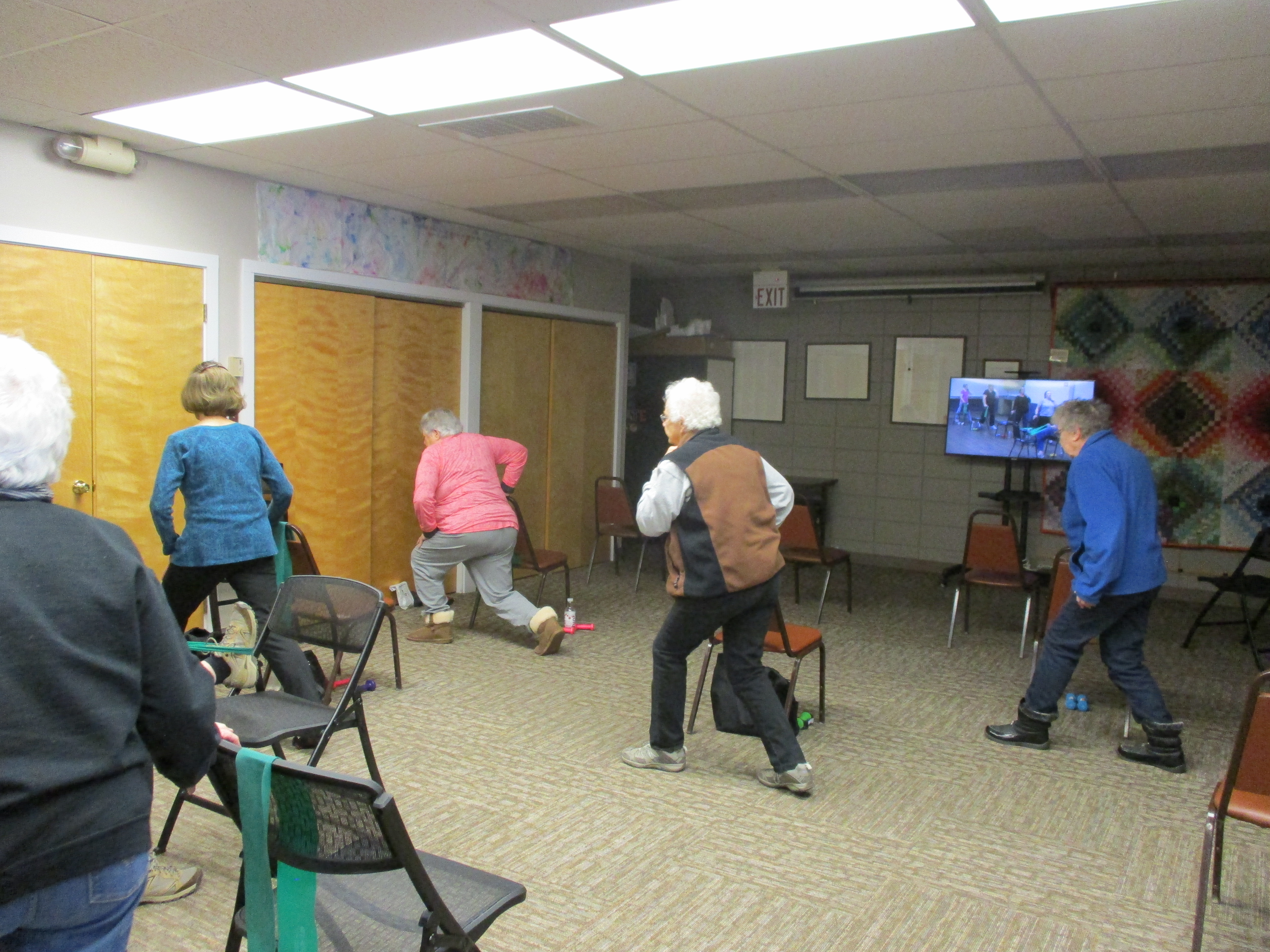 Once you purchase a PPL, you can begin to offer virtual fitness classes by way of DVDs or online streaming. Choose from these DVD titles:
Geri-Fit® Greatest Generation Workout (6 people) $34.95
Geri-Fit® Advanced Workout with Neville + 20 seniors
(large group) $29.95
Geri-Fit® Weighted Lunge Workout for Zoomers (large group) $29.95
Geri-Fit® Turn Back the Hands of Time with Francesca Fisher & Joan (2 people) $29.95
Geri-Fit® Hop, Skip and a Jump - Introductory Proprioceptive Training for Fall Prevention
(large group) $29.95
Geri-Fit® Chest and Ab Workout (with floorwork) (2 people) digital format only $29.95
But wait... there's more! We now offer these same titles in online streaming format (called Geri-Fit Online). No DVD player needed! For more information and a complete listing of all of our titles in DVD or Online Streaming, visit this link.
Our DVD workout videos and online workouts accommodate all fitness levels and modifications of the exercises will be demonstrated so that everyone will be able to participate. Self-pacing is encouraged at all times. Participants should bring their own weights and stretch band to class (usually in a tote bag that they keep in their car), so your facility does not have to purchase any equipment or store any equipment. If stretch bands are needed, we sell them individually or in sets of
10
or
20
at wholesale pricing. The only other requirement are sturdy chairs like banquet style or folding chairs, but without any arms. We recommend that the class size be kept at under 25 participants.
The Public Performance License includes a Geri-Fit License Kit consisting of attractive marketing materials, press releases to help to successfully launch your Geri-Fit virtual classes, educational materials (handouts) for fall prevention and flexibility training, surveys, the Geri-Fit logo, photos for marketing literature, a License Certificate (suitable for framing), instructions for implementing your DVD-led or online classes, a sample waiver, and ongoing customer service support. We even provide you with a free flyer announcing that Geri-Fit classes are available at your facility.
We make it very easy to order... just fill out the license application, then choose your titles! To apply for a PPL,
click on this link
and fill out the form. Indicate which DVD title(s) you want to purchase in the Questions and Comments section of the application. This application does not obligate you to purchase anything but will give us the required information in order to process your request. Once we receive your PPL Application, a member from our team will be in touch with you to arrange for payment. Most orders are done by phone using a credit card, however, we also accept checks.
You also have the option to purchase everything directly online!
Create an account by
registering online
, then start by purchasing the
Public Performance License
or choose the
Starter Package
(PPL + 3 Geri-Fit workouts.) Once that is in your shopping cart, click the Continue Shopping link and then choose your titles and/or products. It's super easy! All credit card transactions are processed securely through our website with an advanced triple layer SSL protection.
If you need help in deciding which DVDs to offer or have additional questions, feel free to call us at 1-888-GERI-FIT (1-888-437-4348 x4) or use this Contact Us form which will send us a quick note. We'll get back to you right away!
Still need a little help in deciding? Visit
Let's Move in Libraries
to learn about program outcomes of our 2019
national study
where Geri-Fit founder Francesca Fisher teamed up with Dr. Noah Lenstra of the University of North Carolina Greensboro where 535 Geri-Fitters across the U.S. participated in a 12 week DVD-led Geri-Fit resistance training program. To view the actual results of that study,
click here
. Here is the
final copy
of what was submitted. Special thanks to Dr. Noah Lenstra for his help in this project, the students, the directors at the 49 libraries that helped make it possible, and most of all, the 535 patrons who faithfully came to class each week to exercise with Geri-Fit.
New
Geri-Fit Online
! Now older adults can exercise at home from any computer, cell phone, TV or tablet!
Here are a few comments from people that have participated in virtual Geri-Fit classes at their library, senior center, and from their home:
I have been attending the Geri-Fit classes at the Gilford New Hampshire library twice a week for over a year and they have remarkably improved my strength and balance. - Victoria E. (age 78)
I have enjoyed your videos for over a year now and felt their benefit -- especially when shoveling snow this winter!
I've hiked for years. Decades actually. Gyms have never been my thing and I've known that I should be stretching and using weights but it hasn't happened. When my library offered Geri-Fit, a friend mentioned the same thing I have - they haven't "connected" with gyms, how much they like the group at the library, and how much Geri-Fit has helped them. We range in age from late 60s to almost 90 and certainly a wide range of abilities. - Betty age 74
I cannot tell you how much I appreciate being able to do this during this pandemic!