Back to Licensing Page
A Public Performance License (PPL) is a license that permits a facility (senior center, library, or retirement community) to play a Geri-Fit exercise dvd and be copyright / trademark compliant. Simply plop the dvd into your player and press play!  Classes are usually overseen by a volunteer of staff person and the group follows along to the dvd. The videos accommodate all fitness levels and age groups.  Self-pacing is encouraged in all videos.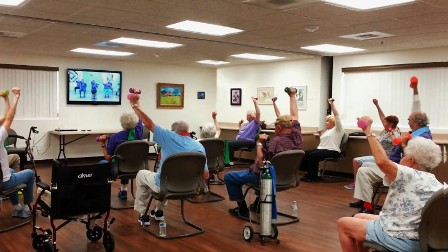 Here's a brief video of one of our licensed PPL facilities:
Most facilities have a scheduled time and day when the class video will be played, and some facilities allow their members or residents to simply come in at any time they want to and exercise along to the DVD. Classes can be held for one person and up to 25 people at a time. You can offer free classes to your members or residents, or some facilities charge $1 per class (or donation). It's up to you whether you want to charge for the classes or offer them for free.
Although not required, it is suggested that you have a staff member or volunteer be present at the time the video is played to monitor the group and occasionally provide recommendations for improvement or exercise correction when needed. We offer an optional online training program that will teach your volunteer or staff member the proper coaching techniques that are needed to correct form.
A Public Performance License is a one-time fee of $150 per DVD title and provides assurety that your facility is copyright and trademark compliant. The license is for one facility only and the DVD cannot be copied, shared or reused elsewhere.  If you have multiple facilities, each facility must purchase its own PPL. There is no annual renewal or other costs.  This is a very cost-effective way for you to offer virtual fitness to your members or residents and is especially suitable for rural areas.
Choose from these titles:

Geri-Fit® Greatest Generation Workout (6 people)
Geri-Fit® Advanced Workout with Neville + 20 seniors (large group)
Geri-Fit® Weighted Lunge Workout for Zoomers (large group)
 Geri-Fit® 15 Exercises That Help to Prevent Osteoporosis (one person)
Geri-Fit® Workout #6032 - (large group)
Geri-Fit® Turn Back the Hands of Time with Francesca Fisher & Joan (2 people)
Geri-Fit® Hop, Skip and a Jump - Introductory Proprioceptive Training for Fall Prevention (large group)
Geri-Fit® Jump Squats Workout - Advanced Balance and Fall Prevention Training (large group)
Geri-Fit® - The Original Strength Training Workout for Older Adults (with floorwork) (5 people)
Geri-Fit® Chest and Ab Workout (with floorwork)  (2 people) digital format only
Geri-Flex® Chair Stretch Workout (one person) digital format only [available April, 2019]
To apply for a PPL, click on this link and fill out the form. Indicate which dvd title(s) you want to purchase in the Questions and Comments section of the application. This application does not obligate you to purchase anything but will give us the required information in order to process your request. Once we receive your PPL Application, a member from our team will be in touch with you to arrange for payment. We accept checks, credit cards, or purchase orders.   
Contact us for more information