Looking for some great fitness programming? The Geri-Fit Company offers several different kinds of strength training exercise programs for all ages and fitness levels. Classes are offered at senior centers, JCCs, YMCAs, city recreation centers, libraries, churches, museums, universities, assisted living / retirement communities, country clubs, apartment building clubhouses, PT clinics, yoga studios and any place where group exercise programs are offered! Choose from the following programs: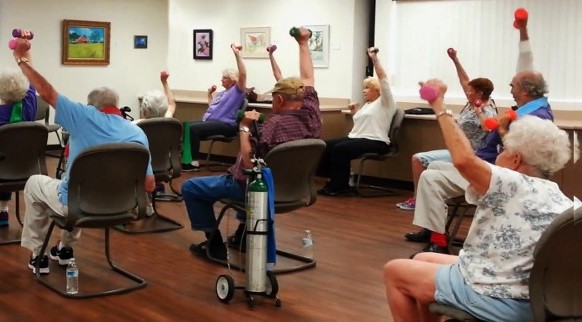 Geri-Fit® is a highest tier level III evidence-based physical activity strength training exercise program designed for older adults who want to improve their strength, balance, flexibility and cardiovascular endurance. Geri-Fit accommodates all age groups from 60-100. Each person is encouraged to work out at his/her own pace. The instructor will provide plenty of one-on-one assistance to assure that you're learning the correct way to work out with weights. We suggest individuals start out using a set of 2-pound dumbbells and then, as their strength increases, they can use heavier dumbbells in order to build more strength and balance. There's no aerobics, dancing or choreography to learn and there's no floorwork. Most of the exercises will be performed seated in chairs. Geri-Fit is an ideal ongoing evidence-based exercise program for chronic disease self-management such as diabetes, heart disease (CVD), pain, arthritis, and weight loss/management as well as an ongoing EBP for fall prevention course graduates. Classes can be held two or three times-a-week for 45-minutes each time. Geri-Fit can also be offered as a 12 week (24 classes) course.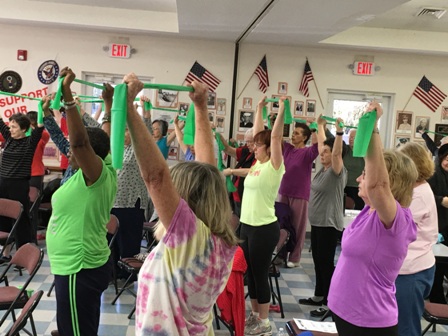 Geri-Flex® is a 30-minute stretching program for active older adults. It combines the best stretches from ballet, pilates, tai chi, and yoga. Students are required to get on the floor, so they'll need to bring an exercise mat and stretch band. We'll work on improving joint mobility, flexibility, balance, and muscular strength. All age groups.
Note: This program can also be taught chair-based so that all floor stretches are eliminated. Stretch at your own pace and fitness level. For training and licensing info, click here.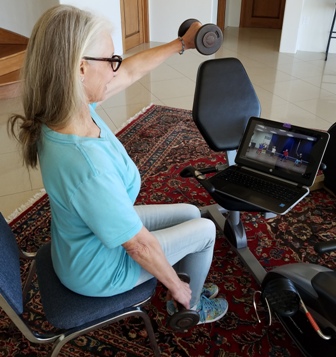 Geri-Fit Online is for customers that prefer to exercise in the privacy of their home. Ideal for Covid-19 restrictions or stay-at-home orders, exercise with Geri-Fit and build up your immune system while you also strengthen your entire body with these bodybuilding workouts. These virtual workouts require no equipment other than set of dumbbells, a stretch band, and a computer that has internet access. You will need to register on our website and create a User ID and Password in order to access the pnline workout(s). Then visit our Products page and purchase any Geri-Fit Online workout for a one time fee of $14.95 (includes unlimited access for one IP address or household.) There are 13 titles to choose from or go with our popular 3 volume set for just $40 (one beginner, one intermediate and one advanced workout.) Photo shows a customer working out with her laptop computer. However, if your cell phone or computer is synced with your TV, you can watch these workouts on a larger screen. Exercise any time you want with Geri-Fit Online!
Geri-Fit® Private Lessons is a great way for older adults who want exercise supervision at their home or want to specifically work on balance improvement and fall prevention. Personal fitness training allows you the opportunity to work one-on-one with a Certified Geri-Fit® Senior Strength Training Specialist at times that are convenient to your schedule. Whatever your goal is, we can help you get stronger, improve your mobility, increase your range of motion, and improve your balance and functional capacity. Sessions can be 30 or 60-minutes long and all equipment is provided. By appointment only. Call 1-888-GERI-FIT x4 for more information.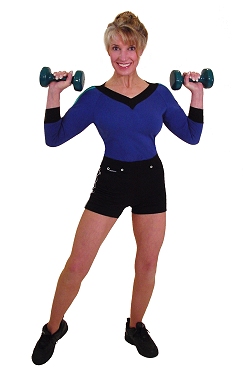 Body Sculpting™ is a one-hour all weights strength training exercise program. The class requires a set of 3 or 5-pound dumbbells, an exercise mat and a stretch band. There is no choreography or dance moves to learn. The instructor will provide plenty of one-on-one instruction in the group setting so it will be like working out with your own personal fitness trainer. Suggested for all age groups age 18 and over provided the participant is in reasonably good shape and can perform full repetition squats and lunges. A chair may be used for balance by older participants that sign up for this class.


Health Fair, Fall Prevention Expo, and Balance Screenings: Meet professional health care providers that are dedicated to helping seniors stay fit and healthy. The Geri-Fit Company offers free information on strength training exercises that you can do at home to help regain strength that's been lost through the aging process. We'll also talk about ways to make your home fall-proof so that you lessen your chances of falls. This presentation is a sit, watch, and learn... participation is not required. You're welcome to take notes and handouts will be given. Free! Call 1-888-GERI-FIT x1 for more information.




If you would like to offer any of these programs at your facility, visit our licensing page or call 1-888-GERI-FIT (1-888-437-4348 x2).