Attention: If you're a current Geri-Fit participant and your senior center, library, community center or gym is closed due to the corona virus, you are able to participate in an online workout as long as you have a computer and high speed internet. There is NO COST to view this video!!! Use this form to Contact Us to request access to the Geri-Fit workout. Be sure to tell us where you were taking class in the Notes section of the form. Remember, exercise helps build the immune system. There's no reason to stop exercising just because we're all sitting at home. Make the most of it! Below is a photo of the group you'll be working out with today.

Geri-Fit® is a tier III (highest level) evidence-based health promotion program and chronic disease self-management support program. Designed exclusively for older adults, Geri-Fit helps rebuild strength that's been lost through the aging process to help ensure a higher level of function as older adults continue to age.
The Geri-Fit® program requires a set of light dumbbell weights, a sturdy chair, a stretch band, and water to drink during the workout. There's no dancing, choreography or floorwork and both men and women can enroll. Geri-Fit is challenging, effective and very safe to do. Participants will literally turn back the hands of time each time they do the workout and they will marvel at the results this program provides.
The workout is considered a "progressive resistance exercise program" meaning that once participants have built up enough strength and endurance using a set of 2 or 3-pound dumbbells, they can graduate to using heavier dumbbells weights in order to become even stronger. In essence, Geri-Fit is bodybuilding for older adults! A typical Geri-Fitter will work up to using a set of 4 or 5-pound dumbbells within a year's time. The Geri-Fit physical activity program also incorporates stretching and range of motion exercises, stability and balance training for fall prevention, cardiovascular activity for heart health, and gait exercises to help improve walking. Want to see what it's all about? Here's a brief video from youtube that shows an advanced version of Geri-Fit.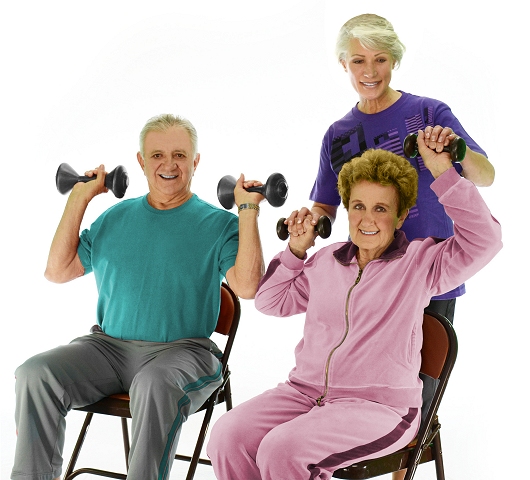 Becoming stronger isn't the only positive outcome that's achieved with Geri-Fit. Older adults will also see an improvement in balance and functional capacity which will help lessen their chance of falls. Other benefits are an improvement in activities of daily living such as carrying groceries, being able to get in and out of a car, standing up from a seated position, picking up a pet, walking up and down stairs, and just being able to walk freely again. A noticeable improvement will also be seen in mood. Most participants experience decreased anxiety and depression within just a few weeks of starting the Geri-Fit program.
Geri-Fit is an ideal ongoing evidence-based self-management support program for chronic disease management, i.e., pre-diabetes and type 2 diabetes, heart disease, arthritis, behavioral health, obesity/weight loss/weight management, mental health, as well as chronic pain management. Geri-Fit also provides continued benefits as a regular, ongoing balance and fall prevention exercise program for graduates of the Matter of Balance fall prevention course. Geri-Fit is especially beneficial for those that are over the age of 75, however, any senior age and fitness level can participate. We suggest to everyone to just work out at their own pace and do what they can!
For facilities with limited space and time, instead of offering Geri-Fit on an ongoing basis, Geri-Fit can be offered as a 12-week "course." For instance, Geri-Fit is usually coupled with the Matter of Balance program so that when MOB participants complete their course, they can immediately enroll into 12 weeks (24 classes) of Geri-Fit. This offers facilities the ability to rotate multiple evidence-based programs on an as-needed basis.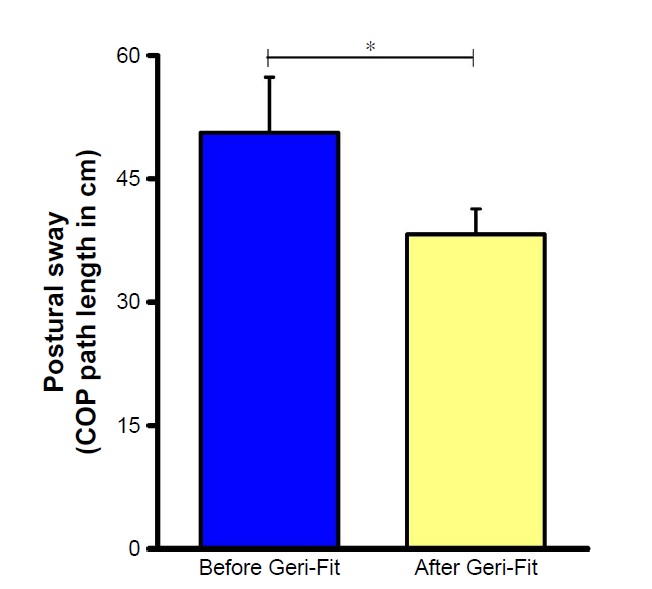 In addition to previous published studies involving the Geri-Fit program, this February 2017 issue of Clinical Interventions in Aging reported that older adults age 65+ that participated in the Geri-Fit top tier evidence-based health promotion program showed an 80.8% improvement in balance over a 90-day period. To the left is a graph showing the decrease in postural sway, a strong fall risk indicator. The higher the number, the higher the fall risk. Geri-Fit substantially reduced the fall risk. For more information: Goble DJ, Hearn MC, Baweja HS (2017) Combination of BTrackS and Geri-Fit as a targeted approach for assessing and reducing the postural sway of older adults with high fall risk. Clin Interv Aging 12:351–357. https://doi.org/10.2147/CIA.S131047PubMedPubMedCentralCrossRefGoogle Scholar
In an even more recent study on virtual fitness and online fitness conducted in 2019, Geri-Fit teamed up with Dr. Noah Lenstra of the University of North Carolina Greensboro where 535 Geri-Fitters across the U.S. participated in a DVD fitness program. To read about the study,
click here
.
The Geri-Fit® evidence-based health promotion / disease prevention program is recognized by the Administration on Aging (AoA) and the Administration for Community Living (ACL), a division of the U.S. Department of Health and Human Services, at meeting the highest criteria (tier III). Geri-Fit is one of several recommended evidence-based physical activity programs for older adults and is recognized by the National Council of Aging (NCOA). All seven research-based programs are listed on NCOA's physical activity page as well as the newly-revised (rev. February 2020) Title III-D Cost Chart (see page 19).
Federal funding under Title IIID OAA (Older Americans Act) is now available to senior centers, non-profit organizations, faith-based organizations, Area Agencies on Aging, county Health Departments, recreation and community centers, and other eligible entities who want to implement tier III evidence-based health promotion programs, chronic disease management support programs, and lifestyle change programs for their communities.
For more information on how to get the Geri-Fit® All Prevention program offered at your senior center, YMCA, library, or faith-based organization, use the Contact Us link or call or text the number below.
1-888-GERI-FIT (1-888-437-4348)

This google map is not inclusive as not all locations choose to list. Geri-Fit has 290+ locations in the United States (as of Nov. 24, 2020.)