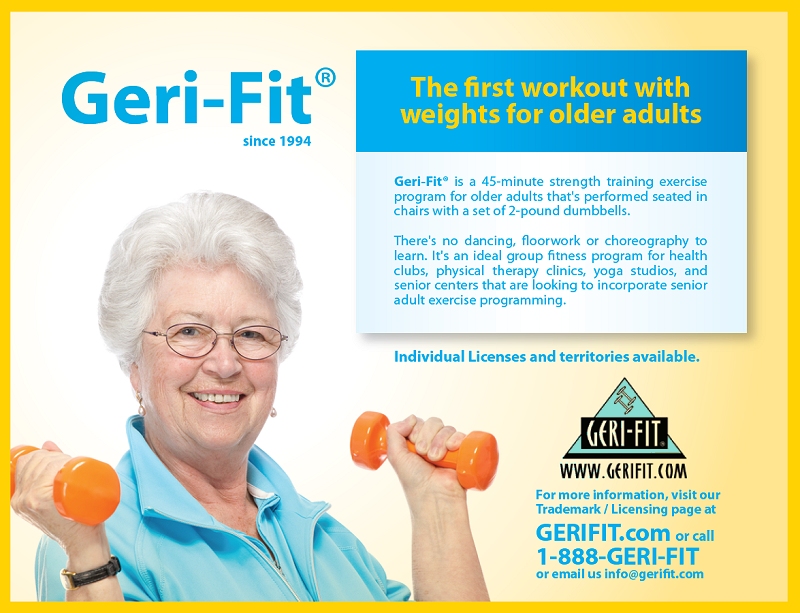 Our Geri-Fit® strength training exercise program is ideal for senior centers, physical therapy clinics, health clubs, gyms, wellness centers, fitness and karate studios, senior living communities, assisted living centers, universities, in-home healthcare agencies and hospitals looking to incorporate older adult fitness programming.  Licensing the Geri-Fit® program affords you the ability to offer a tried and proven strength training exercise program that's been around for nearly 20 years. This turnkey approach provides you with a step-by-step workout format and takes all the guesswork out of creating a safe and effective program from scratch. 
According to the American Geriatrics Society, with the eldest of the nation's 77 million baby boomers already 65 and the youngest reaching that milestone in 2019, older adults will make up a growing share of the nation's population for the next four decades. Now roughly 40 million, the number of U.S. residents age 65 and older will reach an estimated 78.9 million in 2050.  New statistics show that 10,000 people turn 65 years of age every single day making the older adult, baby boomer health and fitness market one of the fastest-growing segments in the United States. These "baby boomers" are the 77 million Americans that were born from 1946 through 1964. As more of this age group realizes that exercising with weights is a way to help prevent osteoporosis, increase bone density, increase muscle mass, minimize arthritic conditions, improve balance and flexibility, lessen the risk of falls, and improve their overall health in general, they'll be looking for places that offer older adult strength training exercise programs.
Geri-Fit® was the first fitness company to launch an older adult exercise program that used dumbbell weights to strengthen and tone the body. It is a tried and proven, evidence-based exercise program for older adults that's very safe to do and very effective at building back strength that's been lost through the aging process. Participants see a vast improvement in strength and mobility within the first three weeks of participating in the program.
In developing our strength training fitness program and exercise dvd's, we sought the help of a geriatrician, a team of physical therapists, exercise physiologists, a gerokinesiologist, nurses and other healthcare professionals. Geri-Fit® was part of early studies conducted by the Cleveland Clinic Foundation and MetroHealth General Hospital in Cleveland, Ohio during the mid-1990's. Some of our original licensed locations in Menifee, North Olmsted, Streetsboro and Kirtland, Ohio still offer the program to this day. To read about their success stories, just click on the links for the cities mentioned above.  Read about more great things happening with the Geri-Fit® program such as the IHRSA August 2014 article, and the University of Texas Arlington. To view the YouTube video featuring the study that Geri-Fit was involved in, just CLICK HERE.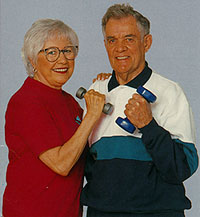 We offer two unique training methods in order to prepare instructors who plan to teach the program.  Our accredited distance learning class is approved by NSCA for 2.0 CEUs and 2.0 CECs by ACE.  You must have a computer and access to the internet in order to log-in to our online training center.
Training is accomplished by reading our extensive Geri-Fit® Training Manual and viewing two exercise dvd's. We also offer a state-of-the-art online education center where instructors can view sample workouts, exercises and drills and learn the needed skills to become an accomplished instructor. Instructors that are already certified as a group exercise leader or personal fitness trainer should plan to spend about 70 hours of study and practice before teaching the Geri-Fit® program. Going through Geri-Fit training is a mandatory part of owning a Geri-Fit® license. You and your instructor(s) must already be certified in either group exercise instruction, or older adult exercise programming, or personal fitness training by a nationally-recognized certifying organization such as NSCA, ACE, AFFA, ACSM, W.I.T.S., AFPA, IFPA, NASM, NESTA, or NFPT and have a minimum of three years experience teaching either group exercise classes or 2500 hours of personal fitness training before being accepted into our Geri-Fit training program.
For instructors or licensees that want to attend a live, instructor-led training program, Geri-Fit® offers its own accredited training program which is available four times a year at its corporate headquarters in southern California.  This specialized training is conducted by a licensed physical therapist or occupational therapist to assure that our safe methods are carried out so that the program is consistenty taught wherever Geri-Fit® classes are offered. The Geri-Fit® Strength Training for Seniors training program has been awarded .8 CEC's by the American Council on Exercise (ACE).
During the one-day, 8-hour training program, we will go through a sample beginner and advanced Geri-Fit® workout and then review all the exercises and stretches used in the Geri-Fit® exercise program.  From this training, you will gain the confidence needed in order to effectively teach Geri-Fit®. Home study is a required part of the learning process and you must own a computer and have internet access in order to view the learning materials.  Plan on spending at least 70 hours of study and exercise practice before attending training. Participants must pass a written and practical exam.  If you read the manual and view the dvds, you should have no problem passing the tests.  
After your instructor(s) complete the distance learning class or attend the weekend training program, she or he will be ready to teach and have the credentials of Certified Senior Strength Training Specialist (CSSTS). 
As a Geri-Fit licensee, you'll also receive:
Marketing materials to effectively advertise your Geri-Fit® exercise classes
Use of the Geri-Fit® logo to distinguish branding, quality and name recognition
Group training program materials, client handouts, and other useful literature
Access to our special online training portal for continuing education
Free online support to help answer questions you may have after you purchase the license
The Geri-Fit® group exercise program workouts and Geri-Fit® Private Lessons workouts
Free program updates as they become available 
Sample letters, contracts and agreements that you can use to effectively grow your business
Ability to become a hosting site for Medicare Advantage Silver&Fit so that seniors with the health insurance plan fitness benefit can attend classes at no to low cost (optional)
An optional free link on our website that has your contact information for Geri-Fit® classes held in your city or club
For additional questions you may have about becoming a Geri-Fit® licensee, Click Here to review the FAQ from our HELP desk which discusses the additional criteria for purchasing a Geri-Fit® license.
Find out how you can make a difference in your community by offering the Geri-Fit® program. Apply today by using our Online Application which will send your application directly to us by email. 
Please note: there is no obligation to purchase a License once you fill out the Application. The information you provide in the Application is for Geri-Fit's use only, and it will help us determine if the location or territory that you're applying for is available and/or if you are a suitable candidate to offer this type of fitness program. A representative from Geri-Fit® will be in touch with you as soon as we receive your License Application.
If you have any questions, feel free to call us toll-free at 1-888-GERI-FIT (1-888-437-4348.)
The information contained on this web page is not intended as an offer to sell, or the solicitation of an offer to buy, a Geri-Fit®  license. It is for information purposes only.  We do not sell any information that you choose to furnish us with; it is for our use only.
Contact us for more information