Back to Licensing Page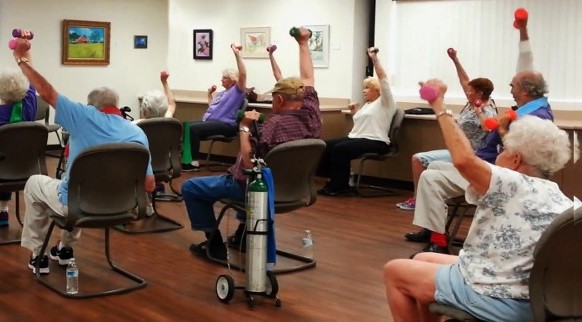 Geri-Fit, now in its 28th year of business, has over 350 locations throughout the U.S. that offers this evidence-based physical activity program.
If you're just in the information gathering stages and would like to schedule a call to discuss offering Geri-Fit at your facility / facilities, send us an instant text message by using our
Contact Us
link.
If you're ready to get started, or would like a formal quote, fill out this
License Application
. No purchase is required!
Geri-Fit is an ideal evidence-based group strength training exercise program for any place that offers physical activity programs for older adults. Any older adult can participate regardless of their age or physical condition. To put it simply, Geri-Fit is a bodybuilding exercise program that uses dumbbells weights (not soup cans or ankle weights, but real dumbbells.) By using weights of various poundages, the progressive resistance exercise program works to build back muscle and strength that has been lost due to the ongoing aging process. All participants are encouraged to do the best they can with a weight that's comfortable for them to safely lift. It is not unusual for gals to start out using a set of 2 pound dumbbells but increase to using a set of 4 or 5 pound dumbbells within a year's time. And men will see the benefits that accrue from continued workouts as well; most men will increase to using 5 to 7 and possibly 10-pound dumbbells over time.
Licensing affords your facility the ability to offer a research-based, evidence-based strength training exercise program that's proven to work. This turnkey approach provides you with a step-by-step workout format so that you can expect the same program outcomes as published studies have shown.
As a Geri-Fit facility licensee, you'll receive:
Use of the Geri-Fit® logo to distinguish branding, quality, and name recognition
The Geri-Fit® group exercise program workouts (easy-to-follow lesson plans)
Access to our special online training portal so that your instructors can get properly trained and certified to teach Geri-Fit
Logos and marketing materials to help advertise your Geri-Fit® exercise classes
Class handouts and other useful literature
Evaluation surveys
Free lifetime online support
Ability to become a hosting site for Medicare "Silver plans" for long term program sustainability (optional)
A free link on our website which has your contact information for Geri-Fit® classes held at your facility
New for 2023... Free annual Program Fidelity training courses so that your instructors or activity specialists stay current with industry trends, IIID ongoing training requirements, and continuous quality assurance.
License fees for stand alone sites are a one-time fee of $2500 and includes the training and certification for two instructors of your choosing. After the first year, there is an annual license renewal fee of $150 for each facility where Geri-Fit classes are held. There are no other fees, royalties or hidden costs. We also offer discounted program license fees for facilities with 10 or more locations (ask about our Blanket License option) as well as a Traveling License for facilities that are unable to offer year-round classes. We've prepared a Program Summary which will help answer any questions you may have about the Geri-Fit tier level III evidence-based health promotion / chronic disease management support program.
Read some of these success letters from early adopters of Geri-Fit where it still being offered now 27 years later and with some of the same original members still attending class! North Olmsted and Streetsboro. A recent 2022 article written by a Geri-Fit instructor at Southport Senior Center in North Carolina shares her own success story.
These
testimonials
collected during 2022 are from the participants enrolled at the highly popular Geri-Fit program offered through Area Five Agency on Aging in Logansport, Indiana. The Geri-Fit program has become so popular, additional time slots have been added to accommodate waiting lists! Geri-Fit continues to be one of their most popular ongoing exercise programs.
This new 2023
infograph
shows some of the long term measurable outcomes that have been achieved with the Geri-Fit program.
Title IIID Older Americans' Act (OAA) federal funding for Tier III evidence-based health promotion programs is available to facilities that qualify, especially senior centers, Area Agencies on Aging, non-profits, and statewide and county health departments that are interested in implementing evidence-based health promotion programs or ongoing secondary support programs (physical activity programs) for chronic disease self-management, pain management, behavioral health and lifestyle change programs. Visit the National Council on Aging's website to learn more about evidence-based programs.
On September 11, 2023, the U.S. Department of Health and Human Services, the Office of Disease Prevention and Health Promotion, revised their list of
approved federally-supported programs
and Geri-Fit has been added to the list.
Click here
to read the 2023 Mid-Course report that provides implementation strategies to increase physical activity among older adults.
Here is a list of our most frequently asked questions....
Do my instructors need to be pre-certified as a group exercise leader or personal trainer in order to get certified in Geri-Fit? No! No prior experience is required, however, familiarity with strength training exercises and bodybuilding methodology will greatly accelerate the learning process. Ideal Geri-Fit instructor candidates would be the same instructors that are currently leading your Matter of Balance classes or CDSME courses.
How will I know if my seniors will like this program?
We've prepared a handy FAQ so that your staff can answer questions quickly.
Have anymore studies been done on Geri-Fit that are more recent than the original 2012 study?
Yes, there have been many. Our most recent study was done in 2019 when Geri-Fit teamed up with Dr. Noah Lenstra of the University of North Carolina Greensboro where 535 Geri-Fitters across the U.S. participated in a different kind of class. This study involved "virtual fitness" where participants exercised to a series of Geri-Fit workout DVDs during a three month (24 class) fitness program. To read about the study,
click here
.
Preparing your documents for funding? Here are some performance measures we suggest having done prior to starting the Geri-Fit program and again after the first 12 weeks.
Do you need to replace your Bone Builders program with a tier III evidence-based program? We can train your existing group of volunteer exercise leaders in our award-winning accredited online training program, or we can fly to you and provide a one-day Master Trainer-led Geri-Fit certification!
Thinking about pairing Geri-Fit with another evidence-based program or chronic disease self-management program? For facilities with limited space and time, instead of offering Geri-Fit on an ongoing basis, Geri-Fit can also be offered as a 12-week "course." For instance, Geri-Fit is usually coupled with A Matter of Balance so that when AMOB graduates complete their course, they can immediately enroll into 12 weeks (24 classes) of Geri-Fit resistance training. This offers facilities the ability to rotate several different types of evidence-based programs at multi-locations on an as-needed basis. Geri-Fit is also a great follow up to Otago, any chronic disease self-management course, or other fall prevention programs.
Do I need to purchase equipment?
No equipment is needed other than a set of light dumbbell weights ranging in size from 2 to 5-pounds and sturdy chairs. Facilities typically have dumbbell weights available for the participants to use. However, community stretch bands and community weights are being strongly discouraged due to virus and germ spreading. Therefore, we recommend that everyone bring their own set of weights and stretch band to class. These can be kept in a tote bag and placed in the back seat of a car or trunk.
Stretch bands
are available at wholesale pricing through Geri-Fit. Facilities usually purchase these and then pass them out at class on day one so that each Geri-Fit participant has their very own personal stretch band.
Gathering info to share with your team before making a decision?
View this short
power point presentation
which gives a good overview on how your senior center, AAA, YMCA, JCC, county health department, state department on aging, recreation center. non-profit or tribal organization can become licensed to offer the Geri-Fit program through OAA federal funding or other funding sources.
Is Geri-Fit Online available if my seniors aren't ready to come back?
Yes, Geri-Fit Online is here to stay! Many have found it a convenient way to get their exercise in... in the privacy of their own home at times convenient to them. Online access is affordably priced at just $50 per person and includes
unlimited lifetime access
for three of our most popular online workouts. Need more variety? Additional titles are available for just $20 each. Optional participant tracking is available to help you prepare your report for completers of remote delivery programs.
Here's what people are saying about Geri-Fit:
Find out how you can make a difference in your community by offering the Geri-Fit® exercise program for older adults. If you'd like a formal quote, please fill out this Information Worksheet which will give us all the information we need in order to get started. There is no obligation to purchase! After the form is submitted, please allow up to 48-hours for a Geri-Fit representative to contact you.