Back to Licensing Page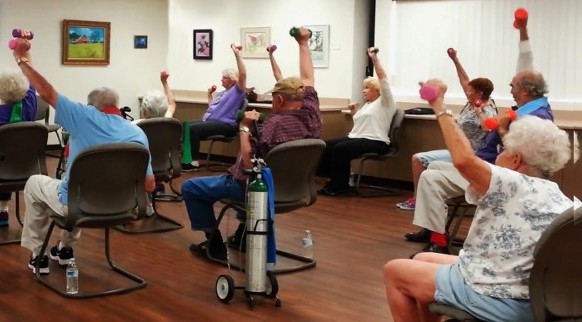 Click here if you'd like more information or would like us to contact you about offering Geri-Fit at your facility / facilities.
Geri-Fit® is the perfect group strength training exercise program for senior centers, YMCAs, JCCs, retirement communities, physical therapy clinics, health clubs and gyms, wellness centers, yoga studios, in-home healthcare agencies and other facilities that want to offer tier III (highest level), evidence-based health promotion programs.  No equipment is needed other than a set of light dumbbell weights ranging in size from 2 to 5-pounds and sturdy chairs. Facilities typically have dumbbell weights available for the participants to use, or the participants can bring their own weights to class.
Licensing affords your facility the ability to offer a tried and proven, evidence-based strength training exercise program that's been thoroughly tested and used for over 20 years. This turnkey approach provides you with a step-by-step workout format and takes all the guesswork out of creating a safe and effective exercise program from scratch. You can expect the same program outcomes as published studies have shown when offering evidence-based programs.
As a Geri-Fit facility licensee, you'll receive:
Use of the Geri-Fit® logo to distinguish branding, quality, and name recognition
The Geri-Fit® group exercise program workouts (easy-to-follow lesson plans)
Access to our special online training portal so that your instructors can get properly trained and certified to teach Geri-Fit
Logos and marketing materials to help advertise your Geri-Fit® exercise classes
Class handouts and other useful literature
Free lifetime online support
Ability to become a hosting site for Medicare "Silver plans" for program sustainability
A free link on our website which has your contact information for Geri-Fit® classes held at your facility
New for 2018!!  Free annual Program Fidelity training courses so that your instructors stay current with industry trends and training requirements
License fees for stand alone sites are a one-time fee of $2500 and includes training and certification for two instructors of your choosing. After the first year, there is an annual license renewal fee of $150 for each facility where Geri-Fit classes are held. There are no other fees, royalties or hidden costs. We also offer discounted program license fees for facilities with 10 or more locations (ask about our Blanket License option).
Read some of these Letters of Reference from early adopters of Geri-Fit where it has been in place for more than 15+ years:  North Olmsted, Streetsboro and Kirtland.  This 2017 infograph shows the measurable long term outcomes that can be achieved with the Geri-Fit program. 
Title IIID Older Americans' Act (OAA) federal funding for Tier III evidence-based health promotion programs is available to facilities that qualify, especially senior centers and Area Agencies on Aging that are interested in implementing evidence-based health promotion programs or ongoing support programs for chronic disease self-management as well as lifestyle change programs.  Refer to the Title III-D OAA (Older Americans Act) cost chart by visiting the National Council on Aging's website or download the Cost Chart of the approved evidence-based health promotion programs (Geri-Fit is listed on pages 8 and 9).
Gathering info to share with your team before making a decision? View this short power point presentation for more information on how your senior center, AAA, or non-profit can become licensed to offer the Geri-Fit program through OAA federal funding or other funding sources. Here's a list of our most frequently asked questions. 
Looking at adding fall assessment tools that can measure the effectiveness of your fall prevention programs or evidence-based health promotion programs?  Here's a marketing flyer about the BTrackS postural sway balance plate.  This is an ideal test to conduct on participants "before" they enroll in physical activity and "after" three months of continuous exercise.  We suggest using it for not only the Geri-Fit program, but for all evidence based programs, including fall prevention programs. The test takes only 3 minutes and it tracks progress over time!
Here's what people are saying about Geri-Fit:
Find out how you can make a difference in your community by offering the Geri-Fit® exercise program for older adults. Contact us for a formal quote by filling out this no obligation Online License Application. Feel free to skip any question that does not apply to you.  The application does not bind you to purchase anything.  Once you submit your application, please allow up to 48-hours for a Geri-Fit representative to contact you for a formal quote.  For your convenience, we now offer an online payment option using your government e-card or credit card.  Once your license application is approved, you can pay for it online.
Contact us for more information