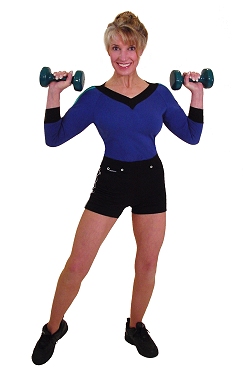 If you're not quite ready for our "senior" program, we also offer Body Sculpting™ strength training exercise classes for those that are in their 20's, 30's, 40's and 50's. Lifting weights now will help build a foundation of strength for later in life and when you need it the most! Body Sculpting™ group exercise classes are held at most of our southern California company-owned and managed locations. To find the nearest location to you, just click on the dropdown box that says Where Are Classes Offered. We also offer the Body Sculpting™ exercise program at corporations interested in initiating onsite employee health and wellness programs for their employees. Classes can be held before work, at noon time or after work. Visit our Corporate Fitness page for more information. Our company also offers Personal Fitness Training where our trainers will come to your home, office or health club so that you can receive expert one-on-one instruction from a certified personal fitness trainer. Personal training is available throughout the Inland Empire as well as all cities in Orange County, California.
More and more companies, whether large or small, are realizing the big payoffs provided by corporate fitness programs.  As health insurance premiums increase, the benefits of keeping employees fit far outweighs these costs. Studies show that companies that offer employee wellness and fitness programs see lowered health insurance premiums and have fewer healthcare claims. 
There are many positive results from initiating employee wellness and fitness programs.  Employees lose weight then maintain weight which helps guard against developing diabetes. Bone density is built from strength training which guards against developing osteoporosis later in life. Employees are healthier and have less absenteeism from work and notice improved productivity as well as having better employee morale.  
Body Sculpting™ is a one-hour strength training fitness program for men and women of all ages and fitness levels. Each person is required to bring a set of 3 or 5-pound (each) dumbbells (depending on their age and fitness level), an exercise mat, a stretch band, and water to drink during the workout. There is no loud music, dance routines, jumping, or choreography to learn. We work with weights the entire class hour. This is a results-oriented workout that not only shapes the body, but works on cardiovascular health, too. 
In addition, we offer a 45-minute chair exercise program which is suitable for your older adult work force or retirees.  Geri-Fit® is a 45-minute, evidence-based strength training exercise program for men and women over the age of 60. Each person is required to bring a set of 2-pound (each) dumbbells (depending on their age and fitness level), a stretch band, and water to drink during the workout. The facility provides the chairs. There is no choreography to learn and the participants have the option of doing the exercises either standing or seated.  
The Geri-Fit Company has been in business for over 20 years and is a registered business with the state of California and Ohio. All of our instructors are Certified Strength and Conditioning Specialists and their certification is kept up-to-date at all times. Instructors are also LiveScan-approved and CPR & AED certified as well. We carry professional liability insurance in the amount of $3M which covers us, our instructors, as well as all of our locations from any accidents, falls, negligence, or claims.  Workers Comp waiver forms are also used to protect your company from any claims while offering voluntary wellness and fitness programs.
Classes are held twice a week -- either on Monday and Wednesday, or Tuesday and Thursday, or Monday and Thursday -- for one-hour each time (45-minutes for the Geri-Fit® program). After work programs are the most well-attended, however, some companies prefer classes to take place around noon time. We even offer 6 AM classes for the early birds! 
For those that prefer to stay after work's over and get their exercise in, they'll find they will have gotten home at the same time they would have normally except they won't be stuck in traffic. Why not spend that one hour wisely and exercise instead?
Corporate Body Sculpting™ course fees are $40 per person (reg. $55) for each eight-class term with a minimum class size of 10 participants. Employees can pay out-of-pocket, or we offer a retainer arrangement of $500 per month to corporations who would like to offer either or both exercise programs as an Employee Benefit and free-of-charge to their employees (the company picks up the tab.) Some companies even match 50/50 to share in the cost. The minimum commitment for a company-sponsored program is three months, with all fees payable in advance.
Any large room that can accommodate 20-25 participants will be needed such as a vacant office, conference room, cafeteria, aerobics studio, or an unrented office suite.
The same off-site corporate discount is available at any of our studio locations throughout southern California. So, if your employees don't want to work out right after work at your place of business, they can attend a class in their neighborhood and enjoy the same discounted class fee of just $40 (reg. $55.)  Employees receiving a corporate discount will use their assigned coupon code when registering online or by phone.
To determine if your company qualifies for either an on-site program, or an off-site discount, fill out one of the applications above, or have your Human Resource Director or Employee Benefits Manager speak to one of our Customer Service team members.  Once we have all the information from you, we'll get started.  We'll even provide you with announcements, flyers or posters, e-blasts, and other marketing methods so you can successfully implement this program at your place of business. Just call us at 951-694-6873 or fill out the Application above.
***
Here's what a few of our corporate fitness clients are saying about our corporate fitness programs: 
 "We're very pleased that our employees are so enthusiastic about the on-site program and have continued to participate in it all this time. They have commented many times about the skill and knowledge of the instructors and the personal attention they receive from them."
 "The employees who participate are enthusiastic and love the convenience of the on-site classes. You have also made this an easy program to coordinate since your instructors handle all the paperwork. The program speaks for itself regarding the way it makes one look and feel."
 "No more waiting in rush hour, and I get home at the same time I would otherwise. I shut off my computer, head to exercise class and have a total attitude adjustment by the time I get home. I love it!"