Complete our online application if you are interested in becoming a Geri-Fit® instructor or teaching at a licensed facility. Geri-Fit online training programs are approved by NSCA for 2.0 CEUs and ACE for 2.0 CECs. The Geri-Fit Company is also an approved vendor with the California Department of Social Services (CDSS) for RCFEs, GHs, and ARFs that require contact hours for continued licensing requirements.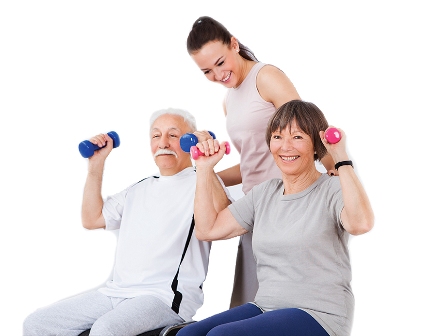 If you are an energetic, team-minded person that is passionate about health and wellness, and you enjoy teaching and helping others meet their health and fitness goals, then this job is for you! Click on the Training tabs at the top for opportunities in becoming a Senior Strength Training Specialist (SSTS) through National Training, local workshops held in southern California, and our accredited Online Training program. 
Geri-Fit® is a tier III (highest level) evidence-based health promotion program.  There's no aerobics, choreography, dancing or floorwork. Most of the exercises are performed seated in chairs with dumbbells ranging in size from 2 to 5 pounds.  The goal of the program is to help people turn back the hands of time by making them stronger which will improve their balance and lessen their chance of falls.  Besides improved functional capacity and arthritic conditions, flexibility, and range of motion, participants have a better outlook on life and are more likely to age in place and remain independent. 
Participants that take Geri-Fit range in age from 60+ and even up to 99-years-old, however, the average age of our participants is usually around 74.  The program can accommodate any age and fitness level as each person is encouraged to work out at their own pace.
Our proven methods of combining strength training, balance training, and proprioceptive exercises will help improve balance which helps to prevent falls.  Become certified today and help others live a long and healthy life through Geri-Fit!